Veterinary House Call Services in Knoxville
Is it difficult for you to take your dog or cat to the veterinarian? If your pet is older or is challenged by a condition that compromises its immune system, it can be dangerous for their health to bring them to a crowded veterinarian. If you don't have the transportation to do it, and the nearest veterinarian is not close to you, it can be a challenge to get there. You don't want to impose on your family and friends to give you and your pets a ride, especially when this may mean getting pet smells and pet hair in their car. If your pets are resistant to getting into a pet carrier, or do not travel well (such as getting car sick, or just overly upset at going anywhere in the car), taking them to the veterinarian can seem like such a chore.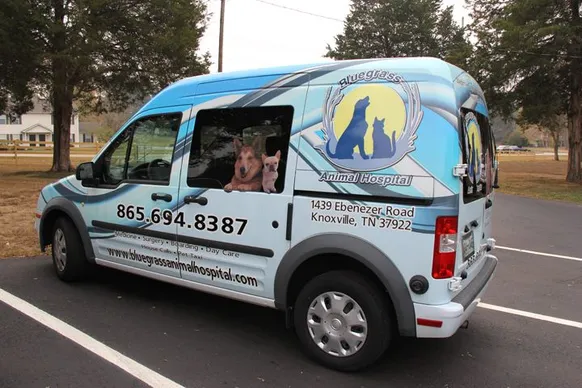 Our Knoxville Veterinarian Offers House Calls as a Special Alternative to Office Visits
If you are in any of these situations, you may put off taking your pet to the veterinarian, or even taking them there at all, because it is just too much of a hassle. This isn't good for your pets, because they need regular care to stay their healthiest and happiest, just like you do. That is why it is such a good thing that Bluegrass Animal Hospital offers house calls for your pets as an ancillary service. While a house call is not a replacement for coming into our clinic a house call is an option for pet owners who cannot bring their pets to us or for ill pets that should not be moved and exposed to stress. We come to you, so you don't have to go through the trouble and emotional struggle of bringing your pets to us. This service is for established clients at Bluegrass Animal Hospital.
Benefits of a House Call Veterinarian in Knoxville
There are plenty of excellent benefits to both you and your pet from using a house call vet in Knoxville. Some of these are:
Lower Chance of Infections. When you bring your pet to the veterinarian, they may catch illnesses from other animals in the waiting room. This is especially a risk for young puppies and kittens whose immune systems haven't fully developed, and who haven't had their vaccinations, and with elderly pets, whose immune systems may not be as strong as they used to be.
You can avoid a waiting room. If you go to a regular Knoxville veterinarian, you and your pet will have to wait at least a short while in a waiting room, which is stressful for both of you. You avoid that entirely by having us come to you.
A cleaner car. Pets tend to shed more when they're stressed or upset. You can avoid getting all of this hair in your car by avoiding a trip to the vet and having the vet come to you.
Easier veterinary care for all your pets. If you have more than one pet, we can take care of all of them during the house call, rather than you trying to bring them all in to another veterinarian's office at once, or one at a time over several individual visits. It's much more convenient to have a vet who does house calls.
Call Us to Learn More about Our House Call Services
Bluegrass Animal Hospital has offered the convenience of housecall services from its beginning in 2002. Our veterinary team can travel to your home for routine examinations, vaccinations, other professional services, as well as in home euthanasia. Contact our office to schedule your housecall appointment with our reception staff. This service is available to our established client's at Bluegrass Animal Hospital!