Pet Emergencies FAQs at Our Knoxville Veterinarian
You do what you can to prevent a health emergency for your pet, but sometimes things happen. At our animal hospital in Knoxville, our veterinary team is happy to answer your questions so you can be more prepared in the unlikely event of an urgent medical condition for your cat or dog.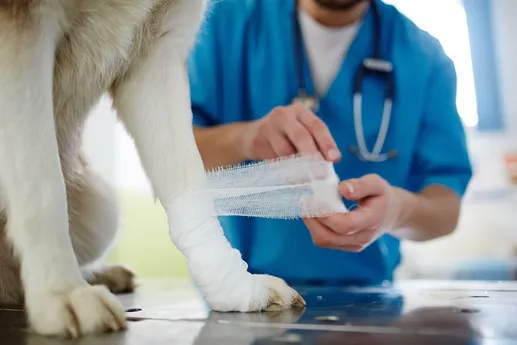 Can you give me some examples of pet emergencies in Knoxville?
Pet emergencies in Knoxville vary widely in terms of severity, type, and presentation. Situations which often require urgent medical attention include:
Heatstroke
Bloat
Cystitis
Electrocution and burns
Frank trauma (often caused by falls or being hit by a car); this can include internal bleeding, skin lacerations, and broken bones
Orthopedic injuries (joint dislocations, ligament tears, tendon ruptures, etc.)
Animal or wildlife bites
Accidental poisoning (food, medications, plants, household chemicals, etc.)
What are the symptoms of a pet emergency?
The following issues indicate that your pet might be dealing with a medical emergency:
Sudden limping or lameness
Vomiting and diarrhea (especially if it's repetitive, lasts longer than 24 hours, or has blood in it)
A lump or bump that's getting bigger and/or harder
Sudden bloating of the stomach
Sudden collapse
Seizure
Difficulty breathing
Bleeding from any orifice or area
Straining to urinate or defecate, or blood in urine or feces
Unusual behaviors such as atypical barking, aggression, or disorientation
How do I approach my injured or ill animal?
Make sure you and the pet are out of imminent danger. Be calm but direct in your approach and use a soothing voice. It's completely normal for even sweet-tempered pets to bite or scratch when they are hurt and scared.
You may need to lift the animal into your car to take it to the hospital. Sometimes a towel or blanket around her can help keep her calm.
When should I contact Bluegrass Animal Hospital in Knoxville?
We encourage you to contact a vet in Knoxville at Blue Grass Animal Hospital with any questions or concerns. If symptoms are severe or appear to be getting worse quickly, bring your animal in as quickly as possible. Feel free to call us on the way to let us know you're coming.
If your pet needs urgent attention outside normal business hours, our vet team can connect you with an area 24-hour pet emergency hospital.
Contact our Veterinarian in Knoxville TN for Fast & Effective Guidance
Don't hesitate when it comes to concerns about your pet's health. Contact our veterinarian in Knoxville TN now by calling the Blue Grass Animal Hospital at (865) 694-8387