Pet Dental Care from Your Veterinarian in Knoxville, TN
When was the last time your pet received a dental cleaning? We're talking about a thorough one that reaches all the way to the gum line and cleans away any traces of plaque and tartar.
If it's been more than a year, you need to take your pet to a vet in Knoxville for pet teeth cleanings. Here at Bluegrass Animal Hospital, your veterinarian in Knoxville, our pet dentist will make sure your dog or cat's mouth is healthy.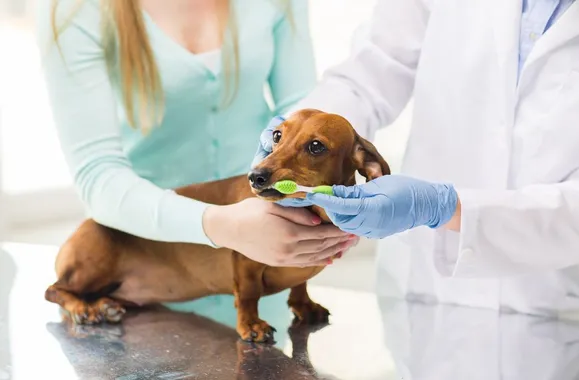 Dental Care and Services at Bluegrass Animal Hospital, Your Veterinarian in Knoxville TN
Here's what you can expect when you take your pet to Bluegrass Animal Hospital:
Cavity fillings for healthier teeth and to control tooth decay.
Infected tooth removal to contain the infection and stop your pet's pain and discomfort.
Teeth cleanings for pets, where our pet dentist will thoroughly clean tooth enamel for healthy, shining teeth. The dentist will also clear the gums and teeth of any plaque and tartar.
Dental examinations every year to ensure your pet's oral hygiene is at its best. If your pet needs a dental procedure, the vet in Knoxville will determine that at this time.
The Importance of Pet Dental Care Knoxville
It's never too early to start thinking about your cat or dog's oral hygiene. Your Knoxville veterinarian will recommend you set up an appointment for your pet during puppyhood and kittenhood. This is so, as a pet owner, you can lower the chances of your pet developing periodontal disease. This is a serious condition that can also cause heart and liver issues. Be aware of gum bleeding, stained gums and teeth, missing or loose teeth, and gums that are inflamed and red.
Of course, there's more than just periodontal disease to keep track of. Pets can get a lot of the same oral hygiene conditions as we can, such as cavities, gingivitis, plague, and halitosis (bad breath).
Through yearly visits to a Knoxville veterinarian, pets can stop:
Having their teeth fall out as they get older
Stinky breath that makes life uncomfortable for both pet and owner
Health issues and infections in other parts of the body (such as from periodontal disease)
Are you interested in managing your pet's oral hygiene when they're not at the vet? You can and you should. Let your veterinarian show you the correct ways to brush a pet's teeth, including what kind of brush to use, the technique to employ, and how to get your pet to cooperate.
About Bluegrass Animal Hospital, Your Animal Hospital in Knoxville
If your pet is overdue for pet teeth cleanings, bring them into Bluegrass Animal Hospital. As your animal hospital in Knoxville, our other services include spaying/neutering surgeries, therapeutic laser treatment, ocular pressure reading for vision, blood pressure monitoring, digital dental radiology, in-house diagnostics and laboratory, ultrasounds, digital radiology, other surgeries, and pet wellness exams.
Contact us today at (865) 694-8387 or visit Bluegrass Animal Hospital at 1439 Ebenezer Road.